Tomato Thyme is a family-owned and operated company that specializes in the growing, packing and shipping of tomatoes throughout the year. We strive to provide our customers with the freshest, healthiest, and best quality tomatoes available in the industry. Our goal is to produce tomatoes that taste like tomatoes by ensuring all tomatoes are ripened in the field. Red 'n Tasty™ Premium Vine-Ripened Tomatoes are an exclusive brand of Tomato Thyme Corporation in Wimauma, Florida and Jonesboro, Tennessee!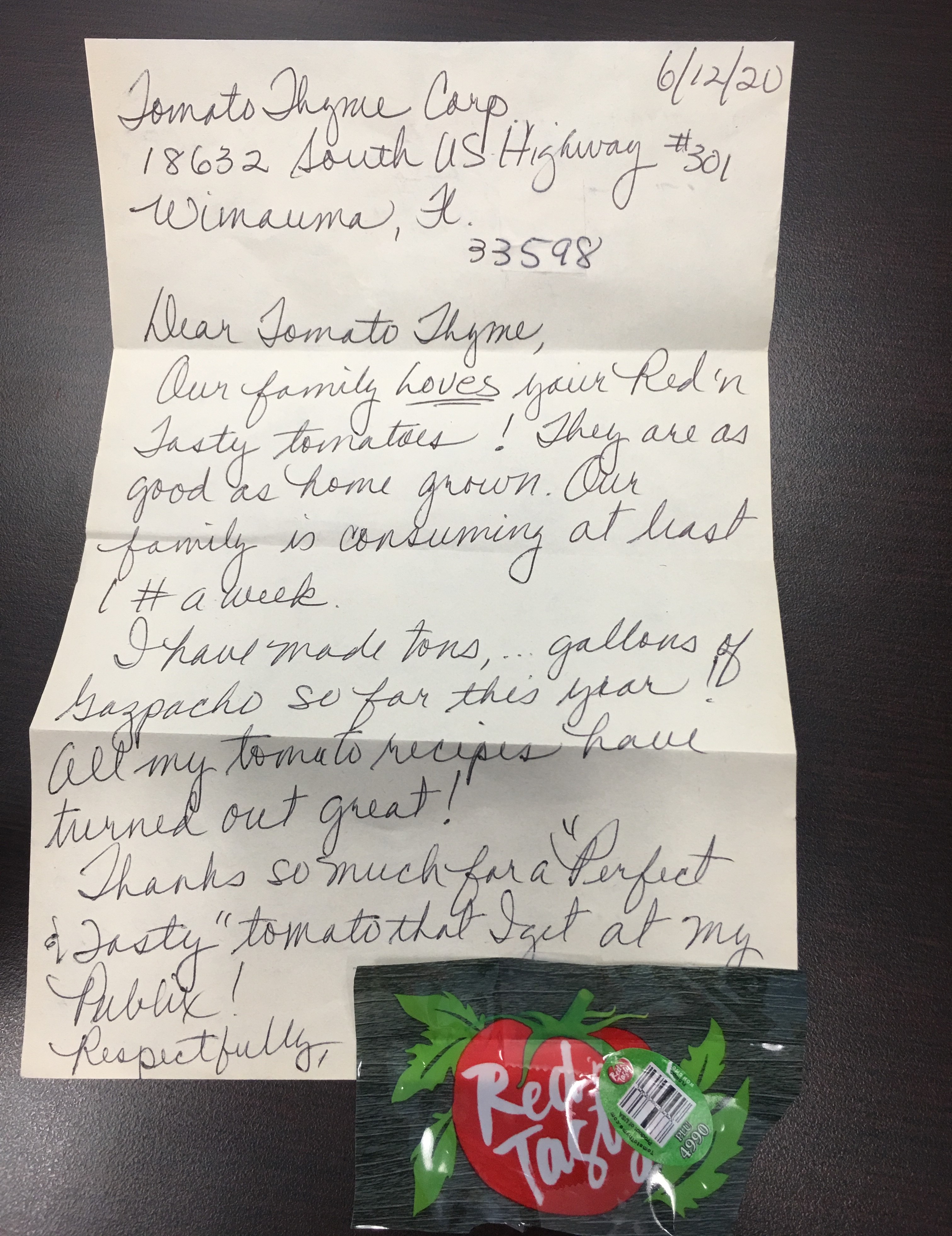 Red 'n Tasty™ Premium Vine-Ripened Tomato Reviews~ read what Publix Customers are saying; 
A Letter received by mail;
"I just discovered your wonderful "Red 'n Tasty" tomatoes when Publix ran a promotion in their flyer last week. They taste like the tomatoes my Daddy used to grow- outside in real dirt, vine-ripened and hand picked. I've waited a long time (or thyme) for tomatoes like these. Even on a bologna 'n cheese sandwich with mustard 'n mayo on rye, the juicy old fashioned flavor of your tomatoes shines through."
"Keep selling them at Publix and I'll keep buying them and enjoying every Red `n Tasty bite."
Christine Steinmetz
Kissimmee, FL
A Letter received by mail;
" I purchased a bag of your tomatoes when I saw them in Publix a few weeks ago. They are the best tomatoes I have found in Florida. I grew up in Maryland where you can buy wonderful tasting tomatoes at roadside stands in the summer. Your tomatoes are like those vine- ripened tomatoes I remember from back home. Thank you for taking me back to the great taste of homegrown tomatoes."
Faith Ferris
Punta Gorda, FL
"I found your tomatoes at Publix in Lexington, SC and they are great tasting. I love the red, high lycopene content and the bags they come in!"
Elizabeth
Lexington, SC
"Thank you for these tomatoes, I am in Euphoria" Please keep having them available at Publix"
Allen
Boca Raton, FL
"These are the best tasting tomatoes I've found in the spring! I found them at Publix and we are going to buy more"
Ernest
Winston-Salem, NC

"These are better than our childhood New Jersey tomatoes. They are delicious, sweet and low acid" I  haven't been a big tomato fan, but I am now! My mom will be so happy when she hears I am eating tomatoes again."
Ronda
Pinellas Park, FL
"I found your tomatoes at Publix in Alabama and they are the closest to real homegrown tomatoes that I have found!"
Joan
Daphne, AL
"Treasures have been found in Publix Supermarkets. They are tomatoes that will bring a smile to your face. They are happily packaged in a plastic bag. They are ripe, red and juicy and harken back to what a tomato is supposed to be. These are Florida tomatoes under the name of Tomato Thyme."
Joe and Leslie Thompson
Alpharetta, GA
"I just bought these tomatoes at Publix and they are absolutely wonderful. I was raised on a farm in California and they take me back to my childhood."
Dorta
Dunedin, FL
"Thank you for Red 'n Tasty™  Tomatoes. It's the best tomato I've ever had! They are delicious and I love the packaging in the bag!"
Karen
Altamonte Springs, FL
"I moved from Ohio 37 years ago to Florida. I know what a tomato should taste like and these Red 'n Tasty™ tomatoes I found at Publix taste like real tomatoes!"
Richard Meyers
Orlando, FL
"I tried the Red 'n Tasty™ tomato at the Publix Aprons sample area and I just love them. They are the closest tasting to a backyard tomato and they don't need dressing or anything."
Beverly
Port St. Lucie, FL
"These are the best tomatoes I've found, way better than our local farm stand tomatoes! They are just wonderful!"
Cherie C.
Lake County, FL
"I got a bag of your Red 'n Tasty™ tomatoes at Publix and they were the best tomatoes I have ever got at a store. They were actually ripe and tasty!"
Randy
Orlando, FL
"We can't find good tomatoes anywhere else. These are unmatched!"
Kathy
Bradenton, FL
Call us today and tell us your comments! 813-672-7707